Secure access to digital services
Don't Let API Growth Become a Security Risk
Unsecured APIs are a Risk
APIs are great enablers for digitalization and are forecasted to grow exponentially in the coming years. Be prepared for the growth and secure access to those APIs with Curity.
Prevent Unauthorized Access
1 in 5 APIs is unsecured. Insist on strong API access control to mitigate identity theft threats and reduce the risk of data loss. Keep the trust of your users.
Keeping Your Users Safe
Curity is committed to standards and best practices for data privacy and identity management that ensures safe and secure user experiences.
Securing
thousands

of APIs and applications
and powering

millions

of user logins
Modern tech for enterprises
A Unique Combination of IAM and API Security
Without a connection between IAM and APIs, your APIs cannot make correct access decisions. The Curity Identity Server combines strong identity management capabilities with API access management to provide seamless and secure access and operation of digital services.
Consistent and secure login
Establish a Common Identity Platform
Provide centralized identity and access management (IAM) built on robust, secure standards
and deliver decentralized developer-friendly access control that is easy to integrate and deploy.
Learn the Benefits of a Common Identity Platform
Deploy anywhere
Run on Your Preferred Infrastructure
The Curity Identity Server is delivered as a cloud native application and can be deployed anywhere.
We Don't Punish You for Your Success
Our flat annual subscription model scales as your business grows. No matter how many users your digital services have, the cost remains the same.
Learn about Plans & Pricing
Trusted by Many
Curity Identity Server helps organizations offer safe digital services and is used for logging in and securing millions of users' access to web and mobile applications. Here are just a few of our customers.
What Customers Say
Discover how organizations are securing their digital services with the Curity Identity Server.
What Analysts Say
Insights from industry analysts.
Gartner®️ Hype Cycle™ for Digital Identity 2023
Curity has been recognized by Gartner as a Sample Vendor in several categories in their 2023 Hype Cycle for Digital Identity. The report talks about some important trends for digital identity and access management to help security and risk management leaders solve these challenges.
Read report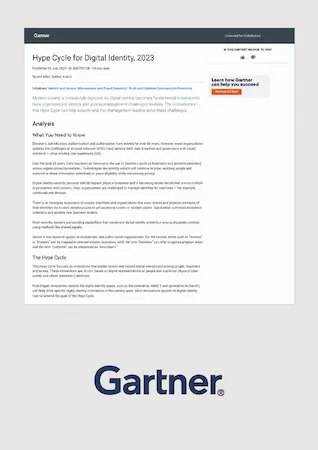 KuppingerCole Leadership Compass for API Security and Management
Curity named Overall Leader, Product Leader, Innovation Leader, and Technology Leader in the latest Leadership Compass for API Security and Management.
Read report